Imagine that people who wanted to become a math teacher had to take a test to determine how well they understood mathematics. Sounds reasonable. However also imagine that this test was both ludicrously hard and assessed topics that had little to do with what teachers actually teach. Not so great.
Well unfortunately, this test exists and in California we call it the CSET (California Subject Examinations for Teachers). It's supposed to ensure that math teachers have sufficient content knowledge but instead acts more like a misinformed gatekeeper. To show you an example of what I mean, check out these two problems below from the Algebra and Number Theory subtest: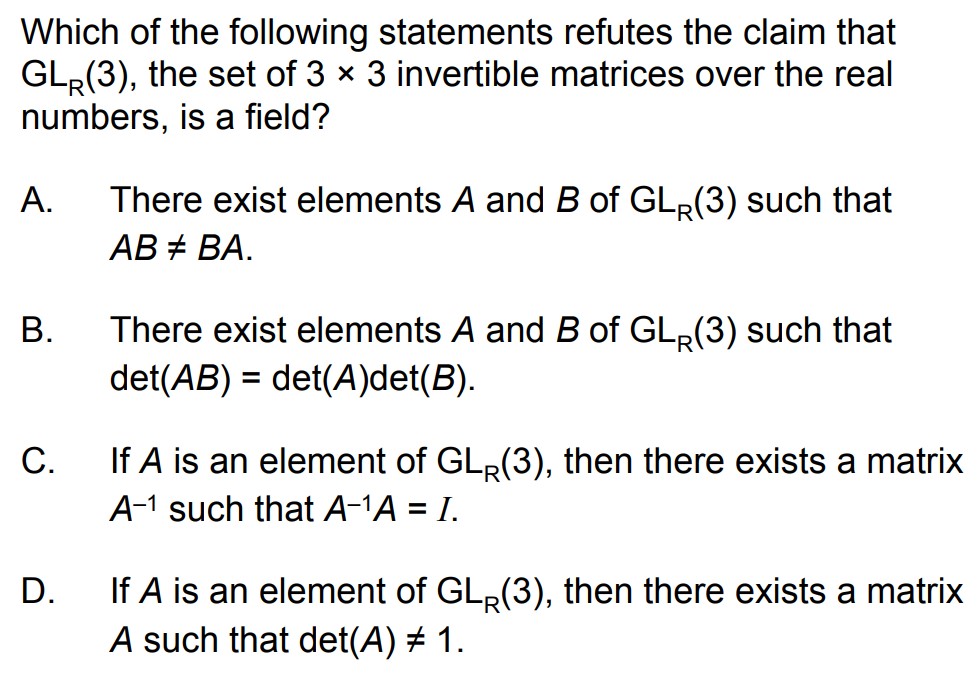 Here's your reality check: if you can't solve problems like these, then you can't pass the test and you won't be able to teach math from 6th grade through calculus. I don't know about you, but I know two things when I see these problems:
I have no clue how to solve either of them.
These problems are MUCH closer to something you'd see in a college level Linear Algebra class than anything in high school.

With this in mind, let me take a step back. The CSET has three subtests which have names that seem reasonable enough (click on the test names to see more practice problems):
1. Algebra and Number Theory
2. Geometry, Probability, and Statistics
3. Calculus and the History of Mathematics

If you want to teach middle school mathematics, you only need to pass the first and second tests. If you want to teach high school mathematics, you have to pass all three. I was a math major at the University of California, Los Angeles (UCLA) and I took the first and second tests about three years after I graduated. They were by FAR the hardest math tests I had ever taken. Most of the content was college level mathematics, and a lot of it I had never seen in high school or college. So this entire test hangs on the assumption that if you know how to do this math, you must know all the math that came before it. That would be like giving kids a Geometry final and having that grade represent all earlier classes.
When I first took the first practice test ahead of the actual test I got something like 4 out of 32 right on my first try! It took me two weeks with the answers AND explanations to fully understand how every problem was solved.
So think about what this means: there are potential educators who have solid content knowledge of middle and high school level mathematics yet are not able to pass these tests… and conversely, people could pass these tests yet still not know the mathematics they'd actually teach!


I'm fortunate. I studied and studied and passed the tests on my first try. However, I'm still bitter about it over 15 years later. How many people would make great secondary math teachers who deeply understand the content they would
actually
need to teach, yet can't pass this test?
I'm all for ensuring that math teachers understand what they teach, but this test does not do that. Why are we not assessing the content knowledge teachers actually need? How do we go about revising these assessments?
If you've had similar experiences with these tests or one for where you live, please let me know in the comments. If you think I'm missing something, I'd also appreciate reading about that too. Thanks.