This is the first of an eight blog post series where I'll attempt to make a version of each of the Common Core State Standards' Math Practices that educators, parents, and students can all understand. Simply put, the Math Practices are really tough to make sense of, which means that few educators have read them in full paragraph form and even fewer confidently understand them.
My guiding principle comes from Antoine de Saint Exupéry who said "perfection is attained not when there is nothing more to add, but when there is nothing more to remove." Certainly I could always add more details, but my goal is to make each standard as succinct as realistically possible and stop.
I will make significant changes while still preserving what I believe to be each standard's essence.
I'll also copy and paste the official math practice for comparison.
I'll add notes to explain my reasoning.
I realize that inevitably my version will also be flawed. Mainly I'm just curious to see if I can do any better. Thanks in advance for leaving me constructive criticism in the comments below so I can improve them.
I've turned all eight of my revised Standards for Mathematical Practice into a high resolution, colorful PDF that you can download to print out, or share.
They are now available in English and Spanish
.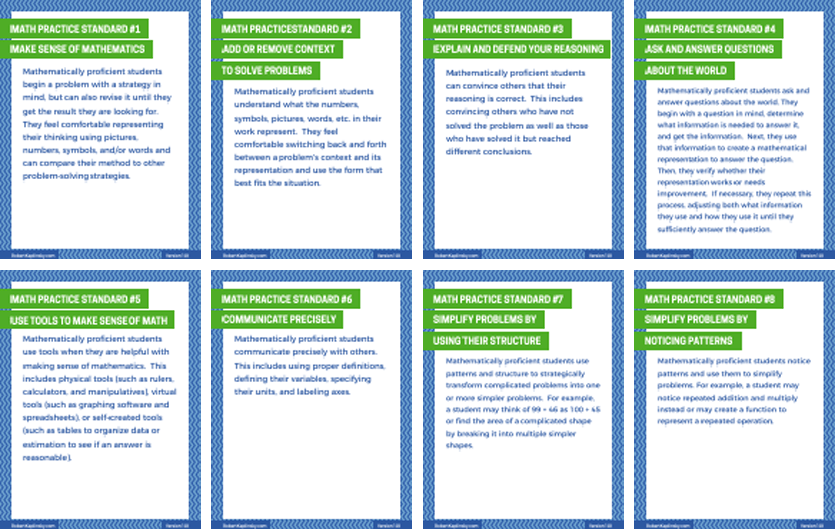 Math Practice 1: Make sense of mathematics.
Mathematically proficient students begin a problem with a strategy in mind, but can also revise it until they get the result they are looking for. They feel comfortable representing their thinking using pictures, numbers, symbols, and/or words and can compare their method to other problem solving strategies.
Math Practice 1: Make sense of problems and persevere in solving them.
Mathematically proficient students start by explaining to themselves the meaning of a problem and looking for entry points to its solution. They analyze givens, constraints, relationships, and goals. They make conjectures about the form and meaning of the solution and plan a solution pathway rather than simply jumping into a solution attempt. They consider analogous problems, and try special cases and simpler forms of the original problem in order to gain insight into its solution. They monitor and evaluate their progress and change course if necessary. Older students might, depending on the context of the problem, transform algebraic expressions or change the viewing window on their graphing calculator to get the information they need. Mathematically proficient students can explain correspondences between equations, verbal descriptions, tables, and graphs or draw diagrams of important features and relationships, graph data, and search for regularity or trends. Younger students might rely on using concrete objects or pictures to help conceptualize and solve a problem. Mathematically proficient students check their answers to problems using a different method, and they continually ask themselves, "Does this make sense?" They can understand the approaches of others to solving complex problems and identify correspondences between different approaches.
You might wonder why I removed the portion of the title that says "and persevere in solving them". When you read through each of the sentences in the official version of the standard, you will see zero references to perseverance. While it might be an implied part of problem solving, the standard is completely about sense making, not perseverance. I have seen this become problematic when educators see students who are not making sense but are also not giving up. They believe this demonstrates MP 1. It's great when students don't give up, but if the students are not making sense of mathematics, then the students are not demonstrating Math Practice 1.
I ultimately decided to delete a large portion of the standard because while it lists several examples of what sense making might look like, I feel it just makes it more confusing.
Thanks for coming along with me on this experiment. I'd love to read about what changes you agree with and what you would do differently. Please let me know in the comments and thanks for sharing this with other educators.