NOTE: This is the third in a series of interviews with educators who are using #ObserveMe signs and what they've learned along the way. The green bold text was added as an emphasis by me and not by the person being interviewed.
Name: Kelley Kaminsky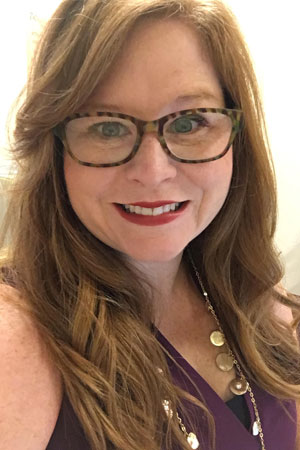 Twitter handle: @Kelley_Kaminsky
Website: https://teachwritenow.blog/
Years in education: 13
Current position: English Teacher / Teacher Leader
Location: Estero, Florida
How did you hear about the #ObserveMe movement?
I first heard about #ObserveMe on Twitter.
Why did you want to create an #ObserveMe sign?
I truly believe that in order to improve schools, we as teachers must become much more open and willing to learn from each other. The traditional model of PD being delivered in a lecture format to a roomful of teachers who are then expected to go back and put into practice the ideas presented, doesn't always translate. Learning from each other, watching each other, is so much more effective and immediate. Plus, opening doors works to strengthen the school community. If we are all learning, we are all growing. I wanted to post a sign so that people would feel welcome to come into my room, and so that they would feel comfortable posting their own sign.
How did you determine your feedback goals?
I changed my sign daily, depending on what kind of lesson I was doing. One day I was having students work on a complicated and lengthy text, so I asked how I might effectively keep everyone engaged in the task at hand, while also allowing myself the freedom to circulate and support their learning.
How did you advertise your #ObserveMe sign so that other teachers knew about it?
In my position as Teacher Leader, I offered this up as a whole-school effort. I wrote about my rationale on my blog in full detail. We began with a whole-school team building activity, then rolled out #ObserveMe as a 7-day concerted effort, during which I emailed a list of participants daily and encouraged everyone to hang a pineapple, an international symbol of hospitality and welcome. I also shared a document (below) to help them ask for and give useful feedback.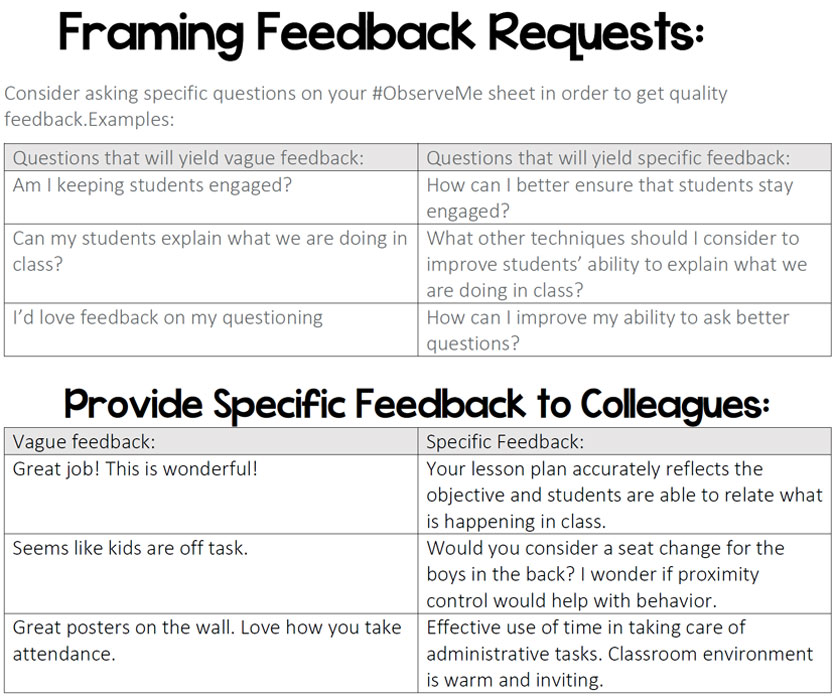 Ultimately about 25% of the building agreed to hang the sign. On the upside, 100% of said they would be willing to try #ObserveMe again in the second semester.
Please share a story of meaningful feedback you've received that you wouldn't have been able to get on your own.
I had one teacher, who happens to also be hosting a student intern, thank me for the opportunity. She said it was beneficial for her, as a veteran teacher, to feel like the doors were open, but also for her to take her student intern around to different rooms. It gave her an opportunity to have meaningful conversations with her intern about what was observed and what she could take back from the experience to her own learning, her own future classroom.
What have you learned through this process that you wish you knew when you started?
I expected more people in my building to participate. I will be honest in saying that I naively thought nearly every door would hang the pineapple. I felt like I was encouraging, inviting everyone to participate, stating that there was nothing to lose, only to gain. I forgot that my own reality is not the reality of every person in a building. I felt comfortable hanging the sign. I was excited to visit other rooms. To me, it was an incredible opportunity. Some teachers admitted that it was just another thing to do, something that took away time from grading or planning. I try to see the bigger picture—to think that an investment of just 15 minutes of my time could really impact me and my students in a positive way. But not everyone is there yet.
What would you say to someone who isn't sure if #ObserveMe is right for them?
I would say that there is truly nothing to lose. You can only gain from asking for genuine feedback. This is a wonderful opportunity to strengthen your teaching practice and to have the mindset of a reflective practitioner. If we want our students to embrace the idea that learning is a life-long process, then we must lead by example. I was delighted when my students asked me what the pineapple sign was all about. When I told them, they were impressed that I would put myself out there for criticism and critique. It was a powerful message that we all have something to learn, no matter how old we are nor our "status" in society as an "expert".