If you are totally happy with the state of professional development and teacher training, then you don't need to read this post. Otherwise, allow me to step onto my soap box for a controversial post…
Recently I was watering my plants and was thinking about how each of them needs a different amount of water. You wouldn't expect that every plant needs exactly the same amount. Some need so little water that the extra water is essentially wasted. Conversely, some plants would flourish if given a little more water. This is probably not surprising to you.
But it reminded me about how we dole out professional development.
I'll say it bluntly : sometimes professional development resources are spent on educators who don't want any part of it. I've seen many trainings where educators actively show that they don't want to participate. Sometimes they're grading papers, playing games on their phones, or taking extended breaks outside. Sometimes they don't even show up to the training at all, even when their fees have already been paid for! It makes me feel like water is being wasted on these plants. Conversely, I have seen teachers who love to learn and crave additional opportunities. If we watered them even a little more, I believe that the fruits of their labor would be fantastic.
It makes me wonder how we ended up with this model.
Consider the image below that was created by Angus Maguire: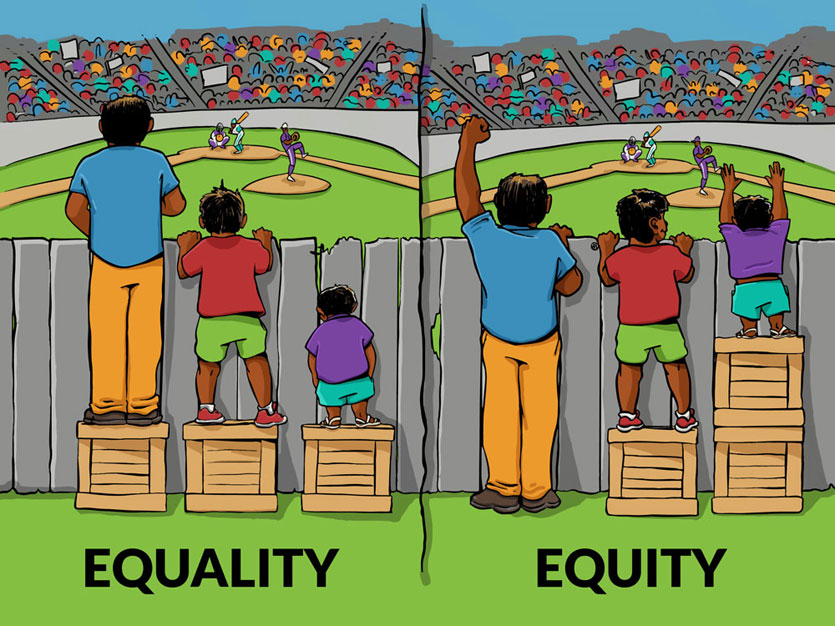 Certainly there are many issues with this image, but I think it is still useful for our conversation. The image's basic message is that while we often think of equal distribution (equality) as being the fairest method, sometimes allocating resources based on need (equity) may be fairer.
Generally speaking, I believe that in education we subscribe to an equality model for professional development: everyone gets the same amount regardless of what they need. So, I wonder what taking an equity approach might do.
Before I dive into that, I want to give you something else to consider. What do these three things have in common:
Los Angeles Police Department (LAPD) brutality
Medical expenses for homeless people
Car pollution
Ready for the answer according to Malcom Gladwell? It's that a disproportionate amount of the problem comes from a very small part of the population. Here's more info from Gladwell's article…


Between 1986 and 1990, allegations of excessive force or improper tactics were made against eighteen hundred of the eighty-five hundred officers in the L.A.P.D… A hundred and eighty-three officers, however, had four or more complaints against them, forty-four officers had six or more complaints, sixteen had eight or more, and one had sixteen complaints. If you were to graph the troubles of the L.A.P.D., it wouldn't look like a bell curve. It would look more like a hockey stick. It would follow what statisticians call a "power law" distribution—where all the activity is not in the middle but at one extreme.
Medical expenses for homeless people
Boston Health Care for the Homeless Program, a leading service group for the homeless in Boston, recently tracked the medical expenses of a hundred and nineteen chronically homeless people. In the course of five years, thirty-three people died and seven more were sent to nursing homes, and the group still accounted for 18,834 emergency-room visits—at a minimum cost of a thousand dollars a visit. The University of California, San Diego Medical Center followed fifteen chronically homeless inebriates and found that over eighteen months those fifteen people were treated at the hospital's emergency room four hundred and seventeen times, and ran up bills that averaged a hundred thousand dollars each. One person—San Diego's counterpart to Murray Barr—came to the emergency room eighty-seven times.
Most cars, especially new ones, are extraordinarily clean. A 2004 Subaru in good working order has an exhaust stream that's just .06 per cent carbon monoxide, which is negligible. But on almost any highway, for whatever reason—age, ill repair, deliberate tampering by the owner—a small number of cars can have carbon-monoxide levels in excess of ten per cent, which is almost two hundred times higher. In Denver, five per cent of the vehicles on the road produce fifty-five per cent of the automobile pollution.

The takeaway here is that these issues are not equally distributed. A small amount of police officers, homeless people, and cars produce a huge and disproportionate amount of the problem. The conclusion then is that rather than giving the same equal remedy to all police officers, homeless people, and cars, we would be much better off with an equitable solution that dealt with the most violent police officers, chronically homeless individuals, and most polluting cars. If we focused the resources we give to all (because it is equal) on the ones that really need it (because it was equitable), then we would be much more likely to get the results we really want.


Implications for Education
All of this to come back to education. I believe we train all educators because it feels like the right thing to do, because we hope educators will grow, and because it seems outlandish for students to have teachers who have not received training in years.
I wonder though what the results of a more equitable (not equal) solution could be. How amazing might teachers be if they got all the training they wanted by taking it from the teachers who want none? Certainly this isn't without its problems… but it makes me wonder…
What do you think? What do you agree or disagree with? What am I not considering? Please let me know in the comments.