If you've used one of my problem-based lessons or seen me present at a conference, there's a pretty good chance that you've used my Problem Solving Framework with your students. I first started working on it in 2012 after seeing something similar on Geodff Krall's website. It's now on version 8.1 and I wanted to take a moment and show you some of the iterations, the lessons I learned, and show you how you can download my favorite version to use with your students and in your professional development. If you've got suggestions for how it could be improved even more, please let me know in the comments.
If you'd like to download the Problem Solving Framework to use with your students, just click the button below, enter your information, and a link to download it will be emailed to you.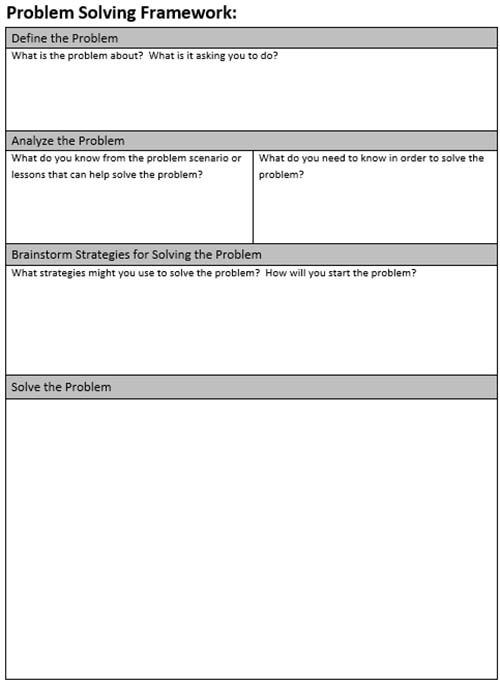 Version 2 was my first iteration of the Problem Solving Framework. I made it in December 2012 and in looking back, it looks pretty much the same as what Geoff made. It didn't have a back side and I don't think I used it much.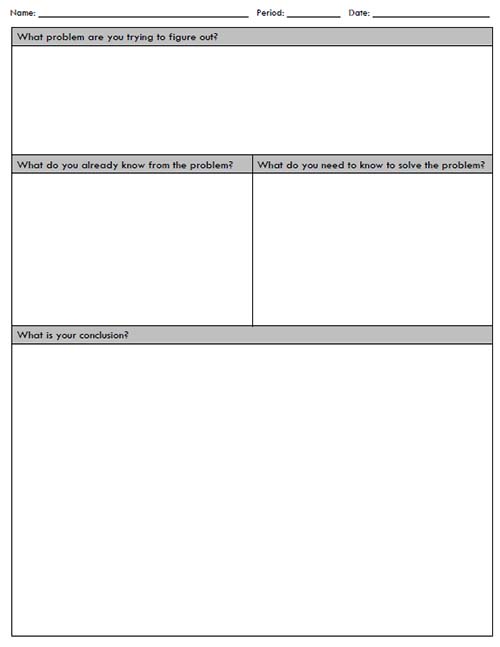 The Problem Solving Framework started to take it's current shape with Version 3 in February 2013. I didn't like the text instructions inside the boxes and moved them into the header for each section.
I also made the headers into questions, changed the fonts, and added a section for name, date, and period number to give it it's current look and feel.
Finally, I removed the "Brainstorm Strategies for Solving the Problem" section and added a back side called "Your Work" for people to do their problems.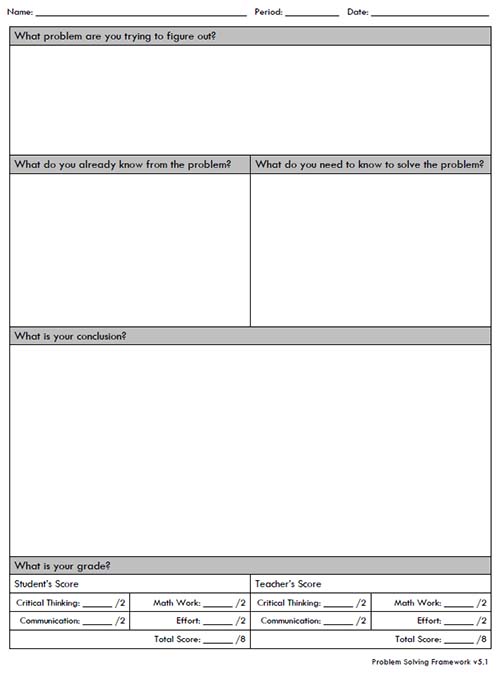 I don't remember what happened to version 4, but Version 5 brought in some experimentation with assessments in late 2013. You can see what I mean at the bottom of the front side.
At that time, I tried to assess students using the criteria: critical thinking, communication, math work, and effort. I also had students assess themselves first. The reality is that while well intentioned, it was not practical. It was never really clear what "critical thinking" meant, nor "math work". It was also a pain to grade them and I didn't often do it anyway. It became more of a burden than anything else.
I've since advanced my thinking on assessing problem-based lessons and you can read about that here.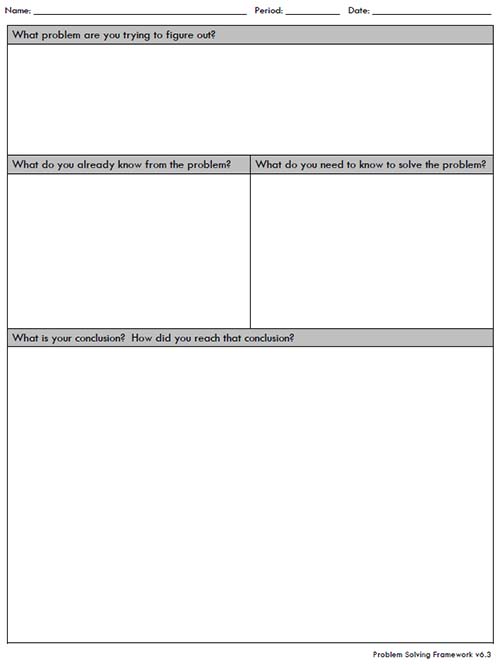 By the time I got to Version 6.3 in early 2014, I was done with including the rubric and went back to a more standard format. One notable change happened in the conclusion. I changed the prompt from simply "What is your conclusion?" to "What is your conclusion? How did you reach that conclusion?"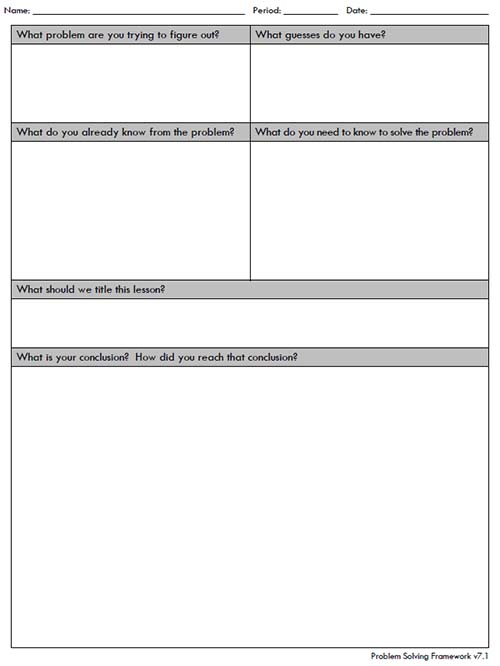 I reached version 7.1 in May 2014. At that point, I incorporated two new features. First, I made a section for students guesses.
I had been asking students for their guesses since late 2013 when Dan Meyer suggested doing that. The problem was that because it wasn't on the Problem Solving Framework, I often forgot to actually do it, so adding it to make sure that didn't happen.
The other change I added also came from Dan. It involved asking people to title the lesson. The goal was to help students reflect on what they did and merge the math with the context. While it was fun and useful in theory, in practice I often found it awkward and skipped it most of the time.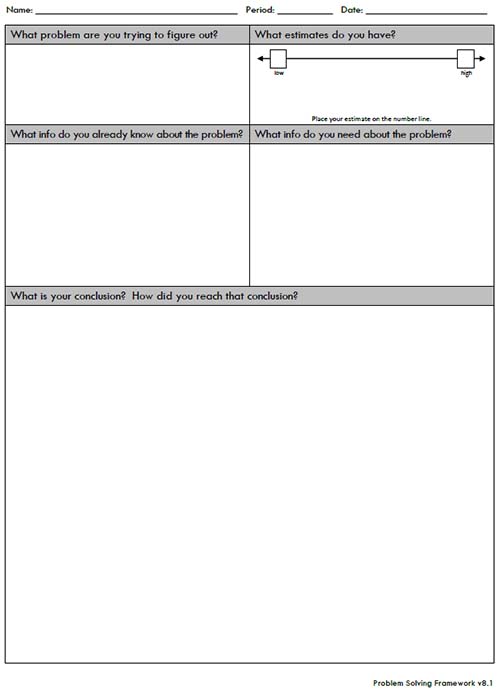 I was fairly comfortable with Version 7.1, and didn't make major changes until about early 2017 when I introduced Version 8.1. In this version I changed the top right section from "What guesses do you have?" to "What estimates do you have?". It may seem like a minor point, but
this blog post from Andrew Stadel
really helped me sort it out.
I also added a number line to the estimate section after seeing Graham Fletcher use one in his training. I've found it to be very intuitive and useful for students to help in their sense making when they don't have a solid estimate.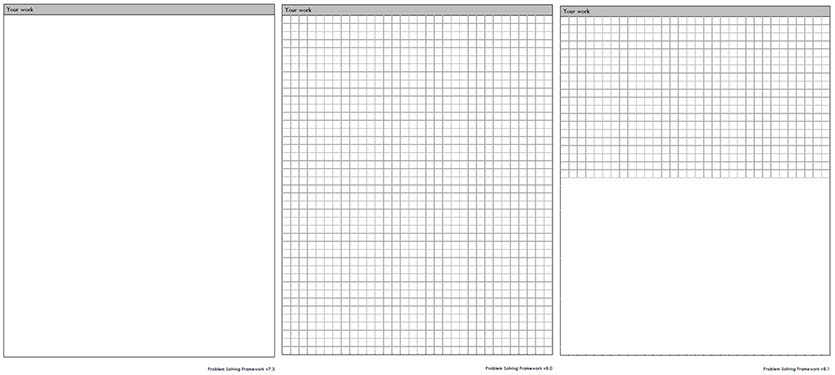 The back side did not get changed from Version 3 until Version 8 when I made the back side all graph paper. Unfortunately, it was just too busy, so in Version 8.1 I changed it to be half-graph paper and half-blank paper.
If you'd like to download the Problem Solving Framework to use with your students, just click the button below, enter your information, and a link to download it will be emailed to you.
I hope it's been interesting for you to take a behind-the-scenes view and see how the Problem Solving Framework has evolved over the years. I'm curious about what changes you liked and what you would have done differently. Do you have any changes you'd still like to see? Please let me know in the comments.